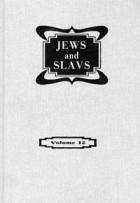 Title:
Edited by:
Other authors:
Year:
Keywords:
Language(s):
Table of content
Foreword
Ivo Goldstein (Zagreb): Types of Anti-Semitism on the Territory of Former Yugoslavia (1918–2000)
Oto Luthar and Irena Šumi (Ljubljana): Living in metaphor: Jews and Anti-Semitism in Slovenia
Vladimir Paunovsky (Sofia): Anti-Semitism in Bulgaria – Yesterday, Today and Tomorrow
Panayiota Andrianopoulou (Athens): The Existence of Absence. Jewish Presence in Veroia through Memories and Narratives of Christian Inhabitants
Béla Rásky (Budapest): A Story Differently Told, Remembered and Constructed: Jews and Anti-Semitism in 20th century Hungary
Hildrun Glass (München): Romanian Jews in the Early Years of Communist Rule. Notes on the Myth of "Jewish Communism"
Michael Shafir (Prague): Memory, Memorials and Membership: Romanian Utilitarian Anti-Semitism and Marshall Antonescu
Mariana Karadjova (Geneva): Restitution of Jewish Property in Eastern Europe
Abstracts
Publishing Houses
Center for Slavic Languages and Literatures, Hebrew University of Jerusalem • Založba ZRC
ISBN
961-6500-31-7
Specifications
hardback • 17 × 25 cm • 152 pages